There are two ways to get a Spanish driver's license. The easier and quicker way is to get one based on your existing driver's license. If you are from the European Union then I have good news for you! In a simple and quite fast process, you can get a Spanish "copy" of your existing driver's license.
You might ask, why is that good? Well, theoretically if you are a resident in Spain for more than 2 years and you don't exchange your driver's license to a Spanish one, then you can get a €200 fine. Practically, it never happens, mostly because no one cares about this, also because just because you hold a Spanish residency card that doesn't necessarily mean that you are living here. You can be traveling back and forth to your home country and why would you exchange your driver's license to Spanish when you spend most of your time home? Since there are no borders in the EU, no one checks this.
But there is a kind of… benefit of having two driver's licenses. Yes, two, because when you apply for a Spanish one, that doesn't mean that you lose the original. What will happen is, that you can keep the original, and you get a Spanish one as too!
Having two driver's licenses can be quite nice in some situations, such as: You can always use the "wrong" driver's license in the country where you are, therefore they will never give you "bad points". Also, if you lose one of the driver's licenses because you do something nasty on the road (that you should not do) then you still have the other one, that you can drive with.
Anyway, you are here to read about:
How to get a Spanish driver's license in Malaga, so let's see that. This article will be about how to get a driver's license based on the one that you already have in your country.
First of all, you need to go get a medical certificate that you are healthy enough to drive. Officially this is not listed as a requirement, but when you will go to the office to get your Spanish driver's license, they will ask for this. Believe me…
You can get this certificate easy and quick, it's basic medical test determining that you are not clinically or brain dead. Search on google maps for: "Centro Médico de Conductores" and you will find several places in Malaga. Go to one of them, bring about 40 euros with you and you get the certificate immediately after the quick checkup. It's not important if you can't speak Spanish, they will understand what you need.
Your second task is to make a photocopy of your driver's license, your EU National ID (or passport) and get passport size photos of yourself at any photo booth or photographer. Let's say you as such a loser like me, and you've lost your original driver's license. In that case, don't panic, they can contact your country and ask if your license was valid or not, and issue a Spanish one even if you can't present the original since you've lost it. To do this, you will need at least the number of your license that you've lost, so they can ask internationally if that's valid and yours or not.
The third step is to get an appointment at the DGT office. This is the place where you can deal with traffic-related things, such as getting a driver's license. So get an appointment, click here: https://sedeapl.dgt.gob.es:7443/WEB_NCIT_CONSULTA/solicitarCita.faces
As you will see, in Malaga, there is a crazy long queue, last time when I tried it wanted to give me an appointment 10 months in the future. WTF?!? Right? But don't worry, there is a way around this. Fortunately for you, you don't have to deal with this stuff in Malaga, you can go to any other city that has a DGT office and get your driver's license there. Personally I went to Cadiz and dealt with this there, but if you find another place that is closer and you are "happy" visiting it, then go for that.
After selecting the city, select the correct item from the menu on the website…
…then select where are you from. On the next page you will face the usual user interface nightmare of Spain, filling a lot of data in the most inconvenient way possible.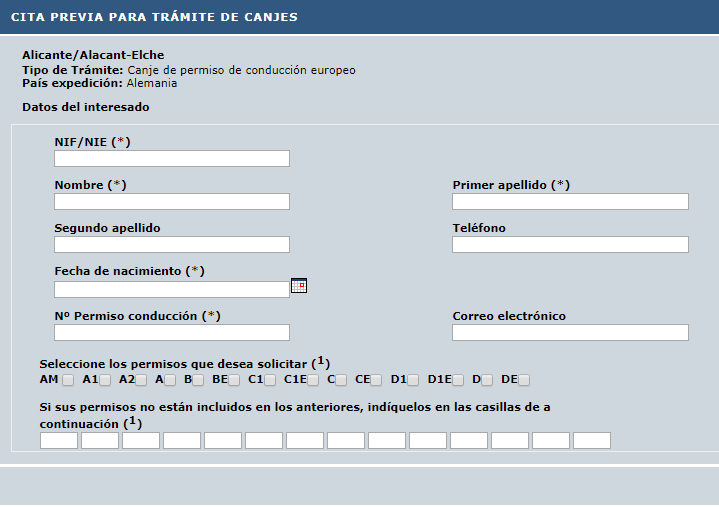 By this time, you should have a NIE in Spain. If you don't, then ready my article how to get one. If you already have a NIE then you should be able to fill the form, since you already understand basic phrases like: Nombre, Primer apellido, fecha de nacimiento, etc. Basically, you have to fill your personal information: NIE, Firstname, Lastname, Birth Date, Number of the driver's license, Your email address, select the driver's license type and click: SOLICITAR
If you filled everything correctly, then you get to a screen where you see the available dates and times when you need to go to the DGT office of the city you've selected.

Select the most suitable date and time and click the CONTINUAR button to see a summary of your data, the selected date and time and the selected office. If everything is correct, press the CONFIRMAR button and you are done! I suggest taking a photo of the screen using your phone or downloading the PDF document, just to have some proof of all this.
The last step is going to the DGT office when it's time. Take your bank card with you, because you will have to pay in the office to get your Spanish driver's license. After you present there all the documents, give your photo, pay the fee, you should get a temporary driver's license in an email (within a month) and then the plastic card within 1-2 months. As you can see, this process is not that terrible as usual. Maybe because they want you driving and getting fines/tickets as soon as possible:-D
Additional tips/info:
– If you lose your foreign or Spanish driver's license, go to the police station, report it, then with the document that you get at the police station go to the DGT office (yes, you need to get an appointment and all the documents that I described above) you can get a replacement.
– Make sure to double-check all data, especially the type of the license, otherwise, you might end up losing some categories.
– In Spain with a B license, you can drive motorbikes up to 125cc if your driver's license is at least 3 years old.